A Texas Owned Parent taught Online Driver Education Course, PTDE #110 - TDLR approved
You Have Questions,
and We've Got Answers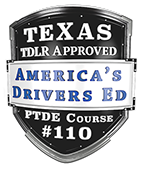 Call Us Today!
877-993-5662
If you don't find an answer to your question here, please give us a quick call!

"I will be recommending this course to my friends and cousins,
not only is it easy to use but its also fast responding."
- Chloe, from San Antonio, Tx
"You are the best! We loved your easy to follow driving portion for parents! It
made all the difference in our success. We couldn't have done it without you!"
- Melody J, from Austin, Tx
"I told the Austin DPS that our friend's family had a poor experience with
(course) ### and that if asked, the DPS should steer them to #110"
- Beth, from Austin,Tx
"Madison passed her permit test the first time, very
exciting, thanks for your help, good program."
- David B, from Magnolia, Tx
Didn't Find Your Answer? Give Us A Call - 281-993-5662