A Texas Owned Parent taught Online Driver Education Course, PTDE #110
We Would Love to Hear From You!
We are extremely proud of our First Class Customer Service.
If you are unable to call us directly, please fill in the form below. Thank You!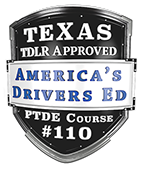 "Each and every person that contacts us will notice
the same thing; unrivaled customer service. I believe
it is the most important aspect of our business. I will
personally spend as much time speaking to and
explaining the driver education process to our
customers as needed. You will never feel as if you're
'just a number' with us. It is my personal promise."
- William Del Re,
Founder of America's Drivers Ed
or
Mon. - Sat. 9 a.m. - 9 p.m. CST
Local: 281-993-5662
Toll Free: (877) 993-5662